Hello,
Hopefully you have seen your student working hard on their creativity project for math class.  Last Tuesday students were charged with doing something creative to show off any topic we have covered in class this year.  Here are their options: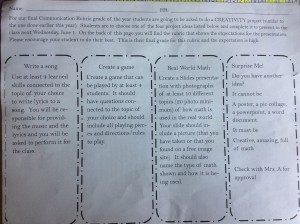 I am so excited to see what your student shares this week in class.  These projects are due Wednesday.  The rubric is on the back of the page shown above.  You can ask your student to check it out.
Please don't hesitate to ask should you have any questions about the assignment.